How NOT to carry a phone in your cycling jersey pocket.
by
If you are a cyclist and you have a habit of carrying your phone in your back jersey pocket, then this will be of interest.
For over 10 years now, I unconsciously slip my phone into my right hand side jersey pocket when I dress and hop on my bike for a ride. I also take my wallet, house keys and some food and a pump also in my other pockets – but they are not the point of the story here…
I have often wondered about how the phone should be placed in the pocket.
Screen facing out – less sweaty moisture getting onto the screen and accidental dialing… but camera fogging..
Screen facing in – Sweat soaking the screen (even though my Galaxy S7 is waterproof!) and chance of the screen being opened by the movement and 'pocket dialing'…
It is just like the question of how to wear your glasses – with arms over or under the helmet straps – which is in fact the better way. Or is it just a storm in a tea cup?
My default on the phone question has been – screen out.
And that was the way I had it when I went off for my Thursday morning ride at Olympic Park. It had been wet most of the week and the roads were slightly damp and dark.
The left had turn from Australia Ave onto Dawn Fraser Ave – before the start of the group rides.
I must have done this turn thousands of times before.
Halfway into this turn, my wheel(s) slipped from under me and I hit the road on my right side. Silvio (or maybe Sharon) who were behind me, asked if I was OK and picked up my phone which was out of my pocket and on the road.
I put the phone back into my pocket and adrenalin kept me functioning. I picked myself up and after a few adjustments, managed to complete most of the early morning training ride.
… It wasn't until my phone fell out of my torn jersey pocket later in the ride, that I saw my phone in the brightening daylight. It was not in a good state!
The road had taken a chunk out the  left hand corner of the screen (including a few large tears on the jersey)… my Galaxy S7 was DEAD.
The result of a small 'spill'
Destroyed riding jersey.
Tyre on the rear wheel that almost popped out of the rim.
Cracked rib (that what it feels like)
Sprained wrist
Small grazing on my right hip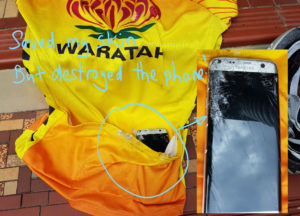 My phone had saved my right hip from major road rash. But it died in the process.
So, which way should you slip your phone into your jersey pocket?
… From now on, my replacement Galaxy S7 will go in with the screen permanently glazing into my kidneys.
If I had put my phone screen inwards on Thursday morning, the plastic protective backing case would have taken the road rash.
And the phone would have been SAVED.